The IR11 controller is a device with just one operating point, made of a control unit and a power unit, connected by a quick coupling cable. It has one input for NTC type temperature probe on the control unit, and a relay output for managing a load on the power unit.
The value read by the probe appears on the display with two digits plus the minus sign.
IR11_01 is a version that is  effective for both cold and hot applications.
IR11_02 is suited for refrigeration units; the defrosting cycles are controlled by stopping the compressor for a a set time.
Easy and quick installation of the control unit  with the click-on mounting system. Can be mounted on 25x58 mm holes (or on 29x71 mm holes with adaptor).
The power supply is 230V or 115V.
IR11 control unit
Panel size:                          32x63 mm (32x74 )
Depth:                                 60 mm
Mounting hole:                     25x58 mm (29x71)
connectors:                          2 poles for the probe
                                           4 poles from the power unit
ambient temperature:            0…+70 °C
IR11POT power unit
size:

                                   

95x43x62 mm
Relay contact rating:

            

20 A
Connector:                           5 faston 6.3x0.8 mm
Ambient temperature:           -10…+55 °C
<![if !supportEmptyParas]> <![endif]>
CONNESSIONI                         WIRING
1-2       NA relè                        NO relay
1-3       NC relè                        NC relay
6-7       alimentazione               power supply
<![if !supportEmptyParas]> <![endif]>
<![if !vml]>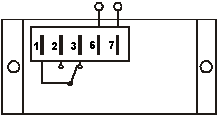 <![endif]>
<![if !supportEmptyParas]> <![endif]>
<![if !supportEmptyParas]> <![endif]>

IR11

01

230

MODELLO / MODEL

<![if !supportEmptyParas]> <![endif]>

<![if !supportEmptyParas]> <![endif]>

APPLICAZIONE / APPLICATION:         01 caldo o freddo / hot or cold

                                                                02 unità frigorifere / refrigeration unit

<![if !supportEmptyParas]> <![endif]>

ALIMENTAZIONE / POWER SUPPLY: 230 Vac, 115 Vac
<![if !supportEmptyParas]> <![endif]>
<![if !supportEmptyParas]> <![endif]>
<![if !supportEmptyParas]> <![endif]>