The TE32F controller is suited for refrigeration units with fans. It has two input for PTC type temperature probe (NTC optional) and three output relays for compressor, defrost and evaporator fans  control. The defrosting cycles are controlled by stopping the compressor for a set time or by using the temperature sensor on the evaporator. Using the door switch input  the fans can be turned off when the door is open.
The value read by the probe appears on the display with two digits plus the minus sign.
The digital port UW permits fast parameters programming with the Replicator module.
Easy and quick installation with the click-on mounting system. Can be mounted on 25x58 mm holes (or on 29x71 mm holes with adaptor).
Direct power supply 230V. A 16A compressor relay is available.
<![if !supportEmptyParas]> <![endif]>
Panel size:                          32x63 mm (32x74 )
Depth:                                 82 mm
Mounting hole:                     25x58 mm (29x71)
connector:                           screw block
ambient temperature:            -10…+55 °C
<![if !supportEmptyParas]> <![endif]>
CONNESSIONI                         WIRING
1          comune relč                 relay output com.
2          NA relč sbrinamento     NO defrost  relay
3          NC relč sbrinamento     NC defrost relay
4          relč compressore         compressor relay
5          relč ventole                  fan relay
6-7       alimentazione               power supply
8-9       sonda evaporatore       evaporator probe
8-10      sonda termostatazione  thermostat probe
8-11      ingresso micro porta     door switch input
UW       porta digitale                digital port
<![if !supportEmptyParas]> <![endif]>
<![if !vml]>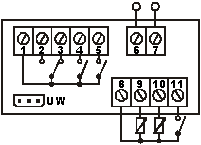 <![endif]>
<![if !supportEmptyParas]> <![endif]>
<![if !supportEmptyParas]> <![endif]>

TE32F

230

10

-

-

MODELLO / MODEL

<![if !supportEmptyParas]> <![endif]>

<![if !supportEmptyParas]> <![endif]>

<![if !supportEmptyParas]> <![endif]>

<![if !supportEmptyParas]> <![endif]>

ALIMENTAZIONE / POWER SUPPLY: 230 Vac

<![if !supportEmptyParas]> <![endif]>

<![if !supportEmptyParas]> <![endif]>

<![if !supportEmptyParas]> <![endif]>

PORTATA CONTATTI RELE' / RELAY CONTACT RATING: 10 A, 16 A

<![if !supportEmptyParas]> <![endif]>

<![if !supportEmptyParas]> <![endif]>

BUZZER: B INTERNO / INTERNAL, - NON PRESENTE / NOT PRESENT

<![if !supportEmptyParas]> <![endif]>

TIPO DI SONDA / PROBE TYPE: - PTC, N NTC